Almuñecar beaches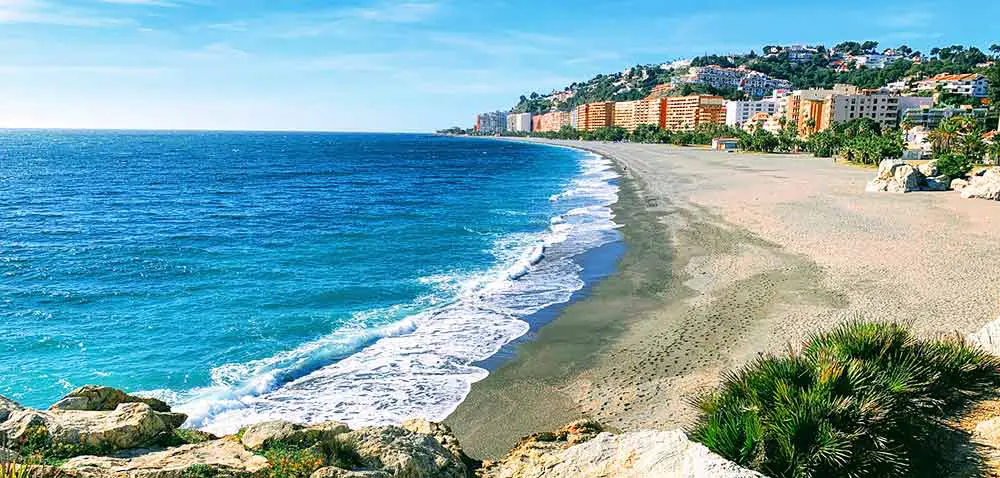 Almuñécar is a small and picturesque city that is located in the province of Granada, representing one of the best activities to do in the Andalusian province, like the ones you can find in the previous link. Its privileged location on the Costa Tropical at the foot of the Sierra Nevada, along with its 19 kilometers of beaches, have made it a tourist destination par excellence for all people seeking an oasis of peace and fun.
This paradisiacal place has 26 wonderful beaches with calm and crystal clear waters, thick, dark sand and unique characteristics that make them an ideal place to rest, relax, and at the same time, enjoy the exquisite cuisine offered by its restaurants.
Almuñécar has much to offer its visitors, who find its extraordinary beaches, promenades, historic monuments and the possibility of practicing water sports, the ideal place to enjoy their next vacation.
This is one of the most beautiful and extensive beaches in Almuñecar. It is more than a kilometer long and about 50 meters wide and is located in the urban area of Almuñécar. Its coast is bordered by exuberant vegetation bathed by calm and crystalline waters. It is a very popular beach in summer as it has a wide variety of facilities, such as umbrella rental, showers, parking, hammocks... as well as some restaurants and children's areas.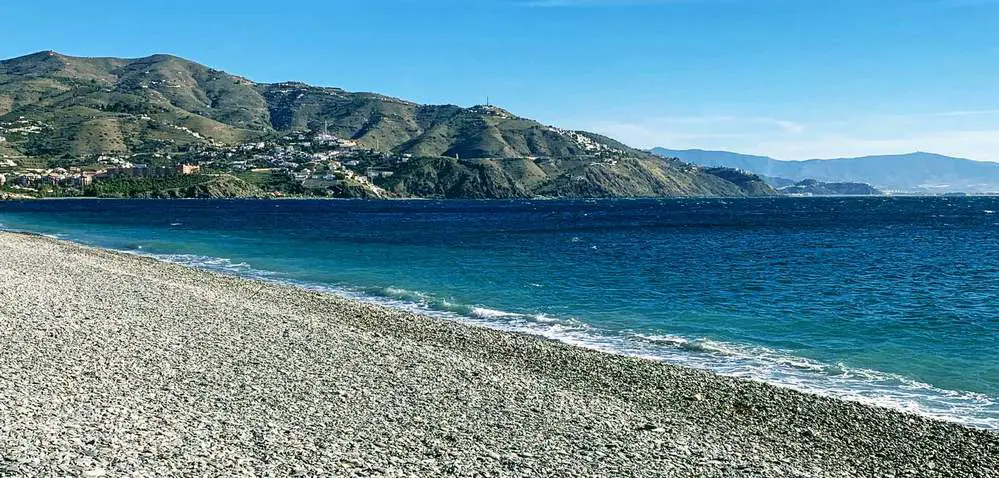 Like San Cristóbal, Velilla is a sand and gravel beach with more than 1 kilometer of extension, located in an urbanized area and very visited throughout the year. It is accessible to anyone.
It has a beautiful promenade and areas for children's games, public parking as well as several restaurants and bars where you can taste delicious food and drinks.
In this list of the best beaches in Almuñecar there is also Puerta del Mar, an extensive beach in the center that has a length of more than 1000 meters. It is located between the Peñón de Velilla and the mouth of the Verde River. It is a beach for the whole family characterized by its gentle waves and crystal clear waters.
Cantarriján is a naturist beach located on the border between Almuñécar and Nerja on the Costa del Sol. It is about 400 meters long and more than 40 meters wide. It is a secluded beach where nudism is allowed. Its waters are calm and it has parking services, rental of umbrellas and sun loungers, a bus stop, bars and restaurants.
La Herradura is an extensive beach more than 2 kilometers long and about 40 meters wide. It has parking and is accessible. What stands out the most is for being one of the most famous areas in Spain for diving.
We finish the list of the best beaches in Almuñecar with Playa el Tesorillo. It is a small and beautiful beach with fine dark sand. With an extension of just 80 meters long and about 55 meters wide, it is very visited by young people and in it you will find showers, umbrella rental, showers and bus service to the center of Almuñécar
information shared from the web