Nerja Beaches

The beaches of Nerja are well known for their crystal clear waters. Its paradisiacal coves make up 13 kilometers of coastline worth knowing. One of them has even been named the second most beautiful beach in Spain by a television program. You can meet her on a kayak on this excursion from Burriana beach
Come to know these wonderful corners of our town and enjoy sailing along the coast of Nerja in one of our passenger boats

The beaches of Nerja are well known for their crystal clear waters. Its paradisiacal coves make up 13 kilometers of coastline worth knowing. One of them has even been named the second most beautiful beach in Spain by a television program. You can meet her on a kayak on this excursion from Burriana beach
Burriana is the busiest beach in Nerja. Enjoy the best services and activities. These services make this the most equipped beach on the Nerjeña coast.
In it you can practice all kinds of water sports such as jet skis, kayak routes, donuts or shuttle bananas, parachute flight powered by a boat... In addition, you can enjoy its Blue Flag every year.
It is a perfect place to spend the day and eat at one of its beach bars or restaurants. It has a great promenade for walking and sun loungers along the entire beach.
This is not a beach to be visited only during the day, its wide variety of restaurants attract all kinds of tourists, who choose this place for their summer dinners. You have from Indian food to the most Mediterranean food.
2. Beach of Carabeillo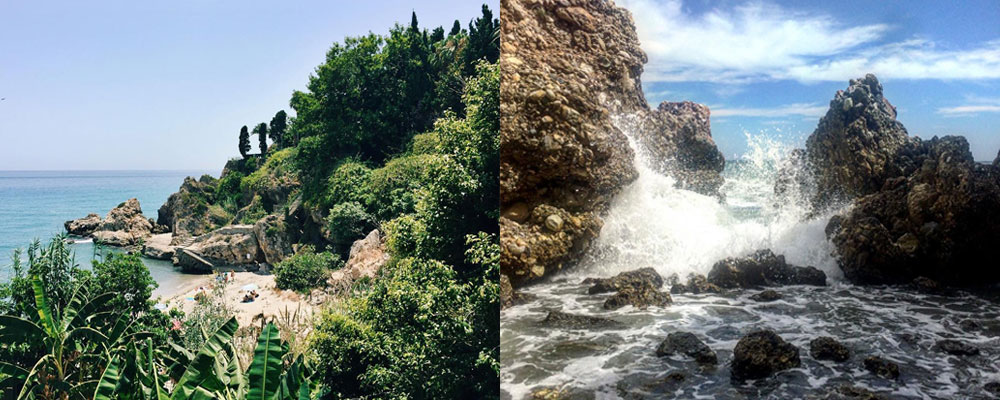 Small cove accessible by the "Mirador del Bendito" located on Carabeo street. Its access is on foot, through a row of steps that border the mountain.
It is a pleasant beach for its tranquility and exuberant vegetation that transports you to any tropical island in a magazine. It should be noted that despite the fact that it is one of the beaches of urban Nerja, it has few amenities.
It is more central than it may seem. Surely you have ever walked down Carabeo street and have reached the viewpoint of the blessed, right? Well, Carabeillo beach is the one just below this beautiful viewpoint.
3. Beach of Carabeo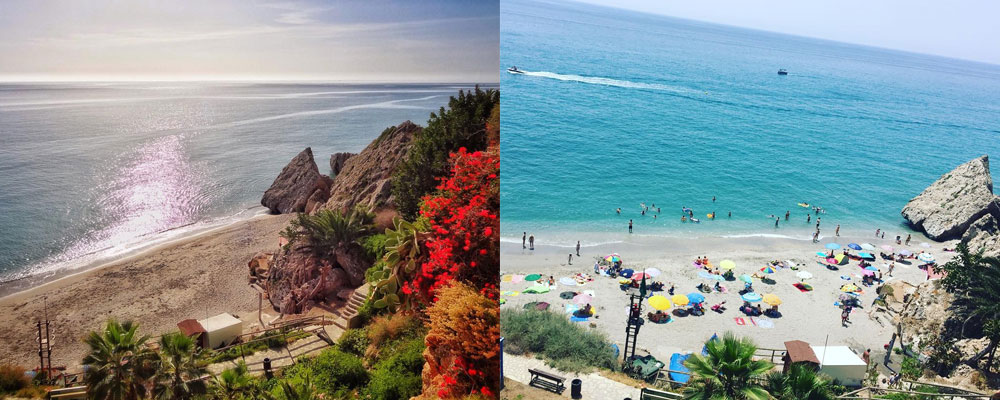 Carabeo Beach is a small beach about one hundred and twenty meters long, accessible on foot through an alley on Carabeo Street in its pedestrian section. I have to say that it is one of the most busy beaches in Nerja, with amenities such as hammocks, showers and a lifeguard.
It is not surprising that it is one of the most visited since it has a special charm. It is a cove nestled between cliffs, very sheltered from the wind.

Composition of 3 small coves, accessible from both sides (by the beaches of Carabeo and Calahonda). The best access is from Calahonda, since you can reach it by the staircase that goes down from the famous balcony of Europe through the Calahonda hole.
Of all the beaches in Nerja, this one is perfect for snorkeling and enjoying the wonders of Nerja's marine fauna and flora.
Although they have little area of sand to place your towel, they are ideal for not being surrounded by so many people. The noise of the sea that is heard when the waves break on the rocks is very pleasant.
They do not have any type of service or lifeguard to monitor it
It could be said of this Nerja beach that it is the best known by tourists. Fact that is due to its location. Beautiful beach located at the foot of the famous balcony of Europe that was part of numerous episodes of the well-known television series Verano Azul.
This wonderful cove is accessible by one of the most photographed places in town, the "Calahonda hole", which is accessed by a staircase.
It has a special charm, surrounded by fishing boats and a small white shed with blue doors that you have surely seen photographed at some time.
It is equipped with showers, a kiosk, hammocks and a security guard. Without a doubt, for those who stay in the center of Nerja, it is a highly recommended beach.

Pequeña cala pública de 50 metros de longitud y ancho variable dependiendo de la marea. Situada a los pies del hotel balcon de europa
Su acceso principal es a través de la playa de Calahonda, que está unida por un pequeño paseo que bordea los pies del balcón, aunque también puedes acceder a ella por la playa el Salón (dependiendo de la marea) a través de el pequeño camino de arena entre rocas. Debes tener en cuenta que no es un acceso fácil.

Old fishermen's beach, now converted into one of the beaches most frequented by Spanish tourists. For me, it is one of the most charming beaches in Nerja. It still preserves those houses and sheds of these fishermen. Houses that they use today as their summer home.
It is accessible on foot through a small street near the El Salvador church, where the Toboso aparthotel is on the corner.
It is about 200 meters long through which you can enjoy walking. I invite you to visit the following link in which we talk in depth about this beautiful Nerja cove.

La Torrecilla is one of the Nerja beaches with the most tourist influx. I find that it is not surprising, since since 2006 it has held the Q for Tourist Quality distinction in Beaches and the blue flag that it receives year after year.
A beach very close to a restaurant area called the crab square, where you will find a wide variety of food.
It is a long beach of about three hundred meters that has 5 accesses.

Playa que va desde las ruinas de la torre vigía (Torrecilla de Nerja), hasta la desembocadura del Río Chillar, donde además se encuentra el hotel Perla Marina.
Tiene su acceso desde el final de la calle Mérida, desde un pasadizo que hay a mediados de la calle, (donde está situado el hotel perla marina) y junto a los apartamentos Arce I. Se aconseja el baño con escarpines por la abundante cantidad de pequeñas rocas que se encuentran en la orilla y dificultan el baño.
Tiene una zona entre las rocas que rodean la torre vigía, donde se puede ver pequeños pulpos y peces mientras se disfruta haciendo snorkel.

Of all the beaches in Nerja, Playazo is the longest of all. It has a length of about two kilometers. This is the reason why most of the people who frequent it are large families, who bring with them camping gazebos or folding gazebos, as well as food to spend a whole day at the beach.
In addition, it is the beach where all the boats in Nerja embark and disembark, since this town does not have its own port.
It is easily accessible by car and has municipal car parks. In it you can find the beach bars Mauri, Pepe table, and the Varadero.
11. Beach of Cala Barranco de Maro

It is located at the mouth of the Barranco de Maro. It is accessed after kilometer 294 of the N-340 Nerja-Almería. The interest of this cove is more for its secluded atmosphere than for the bathroom. Access is very difficult, you will have to park your car and walk several kilometers along paths surrounded by reeds and subtropical crops, where the use of sports shoes is recommended.

Maravillosa cala de Nerja que toda persona debería conocer. No porque lo diga yo, sino porque fue nombrada como la segunda mejor playa de España por la cadena televisiva Antena 3, donde recibió la friolera de 57.299 votos.
Si te decides visitarla te aconsejo que madrugues, ya que su aparcamiento está difícil. Además, ve equipado, carece de algunos servicios como puede ser el de restaurantes

Easily accessible beach located in Maro, a district of Nerja located about 4 km from the town. It is a perfect place to rent a kayak and tour all the cliffs. Take advantage and enjoy its wonderful landscapes.
Its fauna remains intact thanks to the fact that it is classified as a natural area, where fishing is prohibited.

Beautiful beach whose name comes from an existing mill in the vicinity, which was dedicated to the manufacture of paper. It is a beach of about three hundred meters located at the foot of the Maro cliffs, at the mouth of the La Miel River and the Colmenarejos stream.
It could be said that of all the beaches in Nerja, this one is the most virgin of all and therefore lacks any type of service.

Totally virgin beach without any type of services, more than a small shower with direct water from a spring that comes from the mountains.
If what you are looking for is a beach in Nerja without crowds, this is yours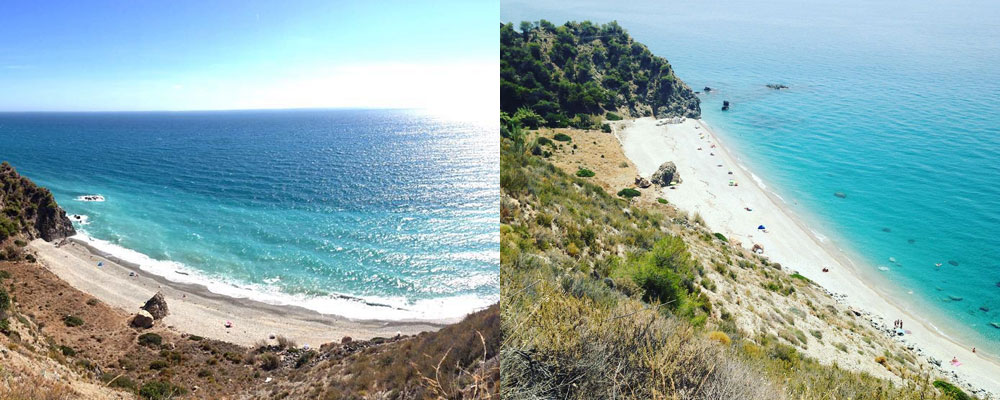 Semi-nudist cove with low occupancy (due to its difficult access), where clothing is optional. It is a cove with crystal clear and clean water that is also very suitable for snorkeling. Its access is by a steep path of about two hundred meters, which goes from the N-340 to the shore
Incredible beach located on the outskirts of Nerja (after Maro) with restricted access to vehicles in summer due to its conservation, which makes it even more charming. For its access there are several minibuses that carry out the return transfer from the beach to the N-340 road for a price of €2 per person (round trip).
This is the Nerja beach that I recommend to everyone who comes to visit. It is a very clean beach, with crystal clear water that invites you to dive and discover its abundant marine fauna and flora.
It is known for its many underwater caves. Like Cala del Pino, this is a semi-nudist beach where clothing is optional. Its access is through a short walk from the national highway.
information from the nerja tourism website